Company profile
Since 2006 in the metropolis of eastern Slovakia.
We want to give IT meaning from the start
Our brand Deutsche Telekom IT Solutions Slovakia entered the life of Košice region in January 2006 under the name T-Systems Slovakia and has been inextricably linked with this region ever since. We proved this the very next year, when we became one of the founding members of Košice IT Valley association.
Over the last decade, we have managed to grow from scratch to being the second largest employer in the eastern part of the country. At the same time, with more than 3,900 employees, we are one of the top fifteen largest employers in Slovakia. Thanks to our highly qualified and motivated employees, we are the company with the fastest growth in added value within the IT industry in Slovakia. Our goal is to proactively find new ways to improve and continuously transform into the type of company providing innovative services.
In addition to our significant presence in the eastern part of Slovakia, we have an impact also in the western part of the country. Our commitment to serving clients and contributing to the IT industry goes beyond the Košice region. We have also our premises in Bratislava, where we have been actively engaged in delivering innovative IT solutions and services. This dual presence in both eastern and western Slovakia allows us to cater to a broader spectrum of clients and contribute to the technological advancement of the country.
The company under the brand T-Systems Slovakia s.r.o.  has defined its mission as follows: "We give IT meaning".
As part of our strategic activities, we are transforming our company into a modern information and communications technology services provider stepping towards a future based on digital technologies. We implement these steps to move our business from a project-driven model (where we supply the required number of IT experts based on our customer's requirements) to an innovative and product-oriented company model (where we supply and manage products and services during their lifecycle at the customer).
We believe that such a transformation can succeed with the right employees who are constantly developing their skills and thus contributing to the professional image of our brand in the market.
Company transformation
Our parent company Deutsche Telekom AG decided to take strategic steps towards structural change, which resulted in the splitting of T-Systems Slovakia into two legal entities, operating, as of July 1, 2020, under one common brand, Deutsche Telekom IT Solutions Slovakia.
The official names of the two legal entities belonging to the common brand are as follows:
Deutsche Telekom IT & Telecommunications Slovakia s.r.o.
Deutsche Telekom Systems Solutions Slovakia s.r.o.
This process provided a unique chance to move the company under the brand of the global Deutsche Telekom AG group. A brand that is one of the most valuable in Europe, which is widely recognized and that opens up for us opportunities for global interaction and cooperation at the international level.
The four pillars
reinforcing our success
In order to always provide the best-in-class solutions for our customers, we are strict to follow our sustainable vision in every situation:
Quality
We are continuously evolving as a global competence center for development and service of long-term virtual ICT solutions.
Cost efficiency
Focusing on providing best-in-class ICT solutions while maintaining competitive and sustainable cost structure.
Innovation
Proactively supporting new ideas, solutions and fresh processes for achieving excellent results and improving quality and efficiency of our ICT and commercial services.
Customer satisfaction
All of our activities are handled as an international cooperation with a goal to promptly react to ever-changing customers' need and preferences.
Long-term success
We are one of the major companies in Slovakia employing many talented people working hard & contributing to national economy. Therefore, our prominent position within national market has long-term stability.
biggest employer
in the eastern Slovakia
place
among the biggest employers in Slovakia
mil. eur
our contribution to the national economy 
mil. eur
cumulative added value for 2006-2018  period
place
among the top value-adding companies
Growing successfully
One of the very first competency migrations to Slovakia was granting full managerial responsibility for 19 applications from the Deutsche Telekom TOP 100 apps. This step allowed Košice Telekom IT unit to become an equal partner for global's internal IT management. Our success in application management opened the door to new opportunities in design of new risk management applications and design of other Deutsche Telekom subsidiaries' CRM systems.
Establishment of the new software-designed solutions development center was yet another example of full trust in the Košice team.
Slovaks worked closely with the German team and successfully took over responsibilities for the whole SD-WAN product's security module developed during the NGENA project. Moreover, Slovak IT engineers took over the so called lead architect positions within the global NGENA startup.
A similar example occurred once the new CTO for Heineken was named, or when research and development of the cloud back-up solution (known as Disaster Recovery as a Service and/or DRaaS) was handed over as well.
 
Moving forward, our position continuously shifts from operations towards value creation for our clients.

Connection linking our first success milestones is trust rooted in long-term stability and quality of delivered ICT solutions articulated in our "Made from Slovakia" motto.

Getting awarded
We highly appreciate every single acknowledgement of our efforts in all of our focus areas.
Najzamestnávateľ 2022
5th place 
Najzamestnávateľ 2021
2nd place 
Najzamestnávateľ 2020
3rd place 
IT Product of the Year 2019
3rd place for Museum alone
Lecturer of the Year 2018
Best corporate Development program
IT Services Firm of the year 2017
The Data Privacy Award 2014
IT Company
of the Year 2001
Unique cloud computing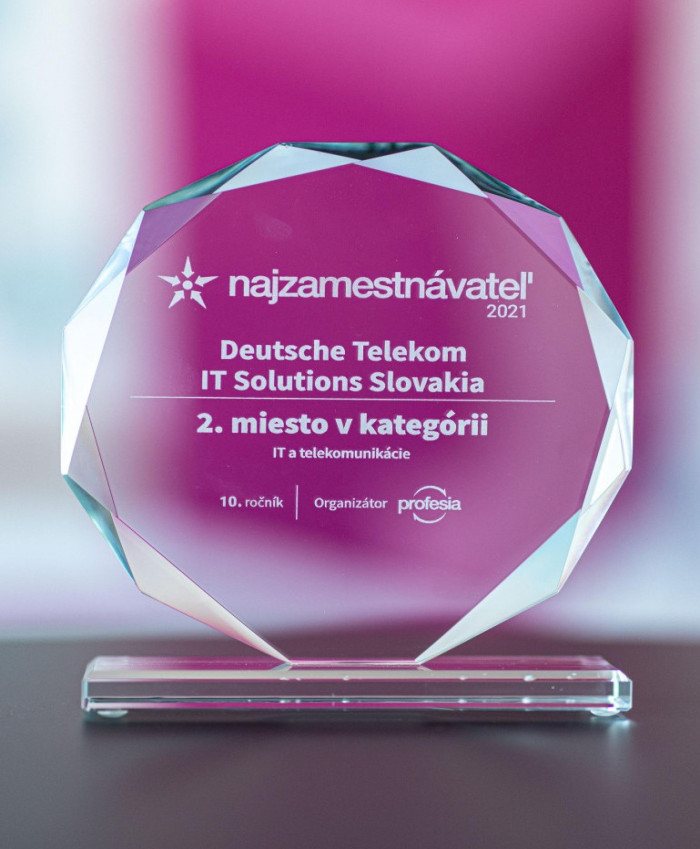 PARTNERSHIP


Košice IT Valley
DT IT Solutions is one of founding and active member of Košice IT Valley.
The association was established in 2007 as a joint initiative of educational institutions, government and leading IT companies. In 2012 it was transformed into the cluster. In 2015 the cluster was certified for "Cluster Management Excellence Label GOLD" as the first in central Europe and is one of three certified clusters in the area of information and communication technologies.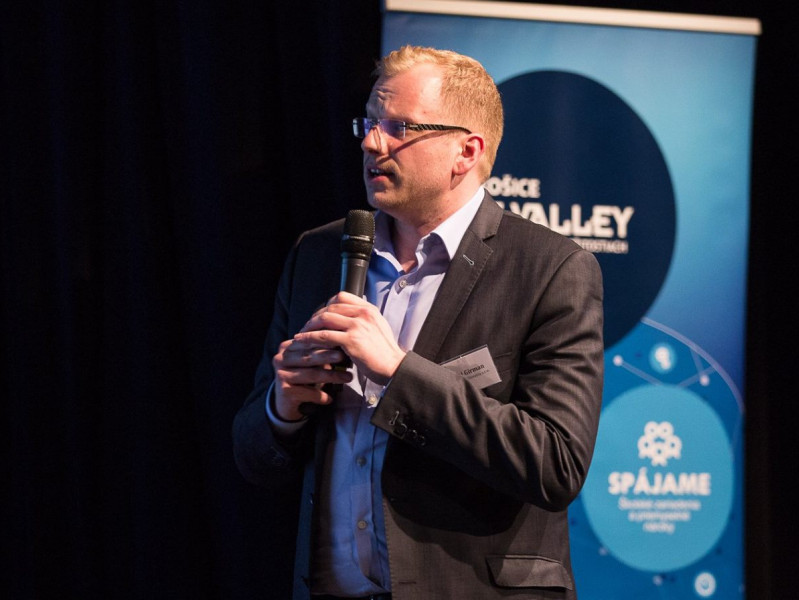 PARTNERSHIPS


Chamber of Commerce
We are a member of:
- Košice IT Valley
- ITAS
- Digital Coallition
- German Chamber of Commerce commercial
- British Chamber of Commerce
- AmCham, American Chamber of Commerce
- Slovak Chamber of Commerce and Industry
- Nadácia Pontis - BLF (Business Leaders Forum)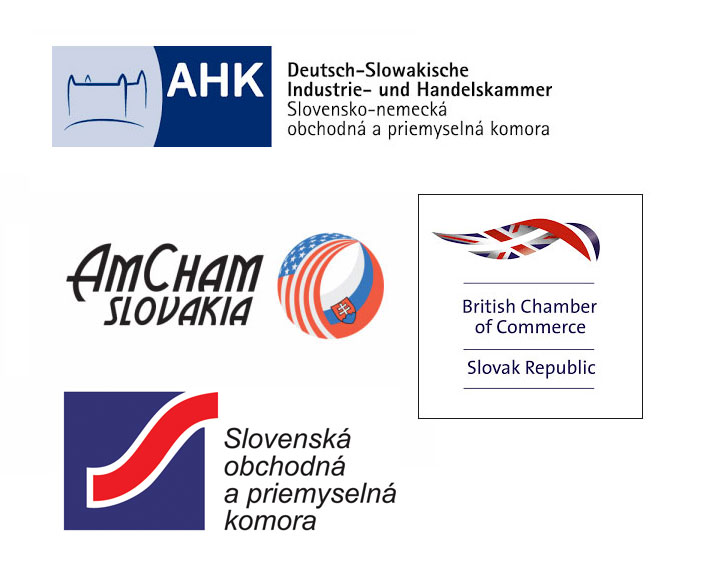 Pavol Jozef Šafárik University in Košice
Technical University of Košice