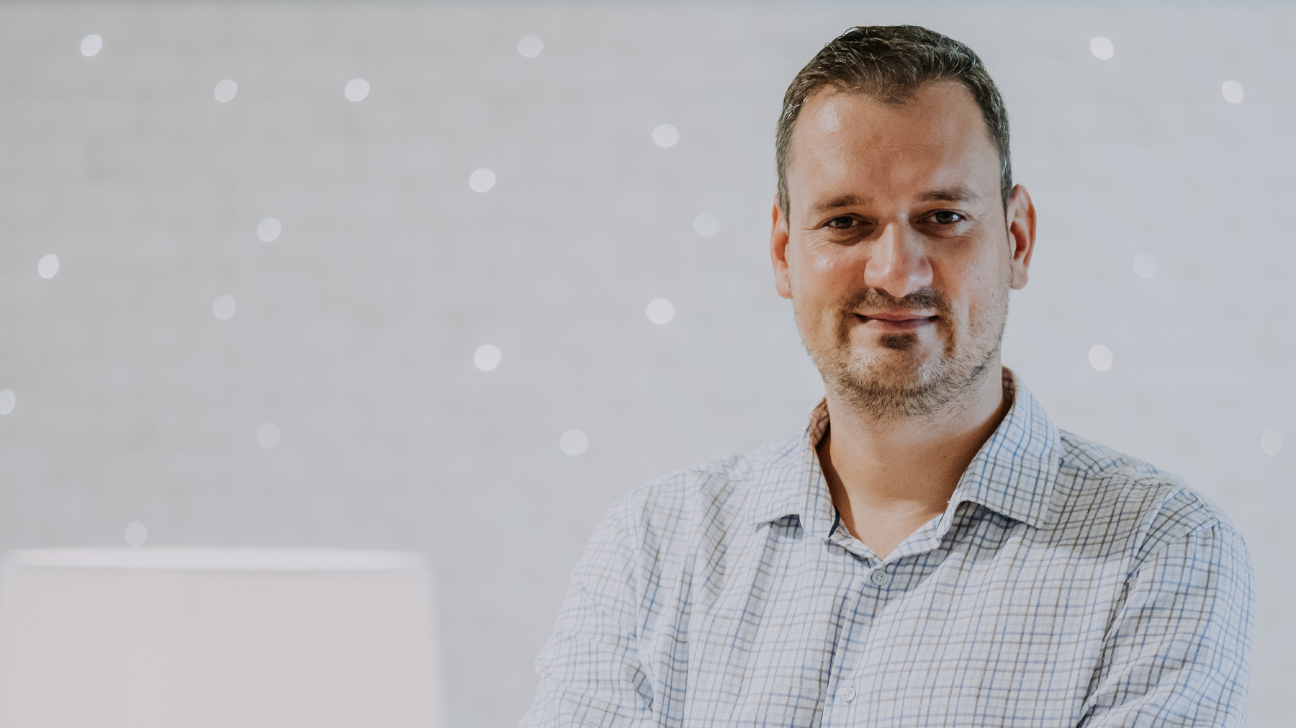 Silvin is a ambassador of our brand for the topics of Edge computing and Big data. Since joining the company in 2015, he has held several positions and currently holds the role of Product Delivery Manager with global responsibility.
Why did you become an ambassador of our brand?
The one who nominated me should probably answer. Anyway, I covered both above mentioned topics as a manager before. My role is helping launch products and implement projects not only in their creation phase, but also deliver these services to clients. I also participate in the development of products as well as in their implementation to fulfill a client's needs.
Why do you think the Big Data area is important?
Because development of technology goes hand in hand with increasing volume of data. Before, downloading a movie form the internet was a difficult thing, today we don't even have to download a movie. Technologies are moving forward and increasing the amount of data we need to analyze and transmit. As for specific technologies, we can talk about technologies such as Apache Hadoop, various analytical tools, from the point of view of application management it can be Kubernetes and from the point of view of infrastructure management it can be for example Openstack, to which we add other individual technologies that provide a solution to the customer's requirements.
At DT ITSO SK we have a team dedicated to Edge computing. Could you tell us more about it?
We have been involved in Edge computing in the company since 2019. This initiative was created as a new project, which I took responsibility for when accepting a global position. We are still relatively new team with about 20 experts. Our goal is to build the service focused on architecture, product development and a support of new opportunities.
Could you also describe the projects you are working on?
We primarily focus on customers in the field of industry, but also in the field of re-sales and production. We design platforms for clients that enable collecting and processing large amounts of data. This includes the development of infrastructure outside the data centers, which we design to suit the customer's needs. We are developing a self-service platform that will ensure the smooth running of the application in the field (on-premise). The entire product development - process and technical part, takes place here in Košice. The application will be user-friendly at the level of common products, but also at a price. The computational power will take place directly at the place where the data is generated. In automated production, there are specific technical requirements for low latency, high data transfer, large amounts of data and, of course, also in terms of data security and sensitivity.
In addition, we are currently implementing a project for one of the largest players in the oil and gas industry, which needs to ensure the operation of various applications that run at gas stations. We develop a platform for them to collect and analyze data for software that focuses, for example, on identifying customers' problems.
How has your career been developed at DT ITSO SK?
In 2015, I took up a managerial position after giving up a previous job, where I had worked as an IT consultant. Since joining the company, I have been helping to the Big Data team, which was a new at that time. In addition, I had the honor to launch other projects, especially in the field of migration of customer data centers to the cloud. In this area, I covered two teams, helped build a team of project managers and architects, I also engaged in educational activities, but I still tried to stay close to technology and work on specific products and projects.
Did you see yourself in IT even before you joined the company?
Before I joined DT ITSO SK, I had changed several employers in the IT field including my own projects. I did not study the technical field, but during university studies I had a group of students around me, with whom I started to focus on IT and I gradually moved to this branch. Personally, I don't believe there is a sphere that you might be taught everything  at the university and come out like a complete person. One gets the basics, but especially in IT, he or she has to constantly educate himself/herself.
What do you think a person needs to work in IT?
That's a good question. Probably one should have a positive relationship to technology, because there is a lot of information. There must be a passion and positive attitude to one's work, whether it is  serving servers or writing codes. Important is motivation to learn, because lot of the work in IT is about learning and keeping up. Don't be afraid to start new things, be able to cope, to overcome obstacles and do not let yourself to be discouraged.
What do you see as an added value of Deutsche Telekom IT Solutions Slovakia?
Our company gives a lot of space for self-realization for many people. If a person has a desire and work is fullfilling to him, he can move. It doesn't matter whether it is technically or managerially. Such success may not be a matter of course everywhere.
Why should one focus on this area?
It is interesting and creative work, but also very demanding. We offer work with technologies that one does not normally encounter. On the other hand, we have an opportunity to create a lot, because solutions for customers are created and tailor-made. It is simply a creative activity; it is not work lined up from A to Z. One must deal with new situations on a daily basis, with new technological challenges that need to be solved.