Mišo joined the company as a student of artificial intelligence in 2009. Today he is part of an international team of architects who design enterprise solutions within the Deutsche Telekom Group. In the company, he belongs also to the experts for the design of architecture in the cloud. That's why he became our ambassador.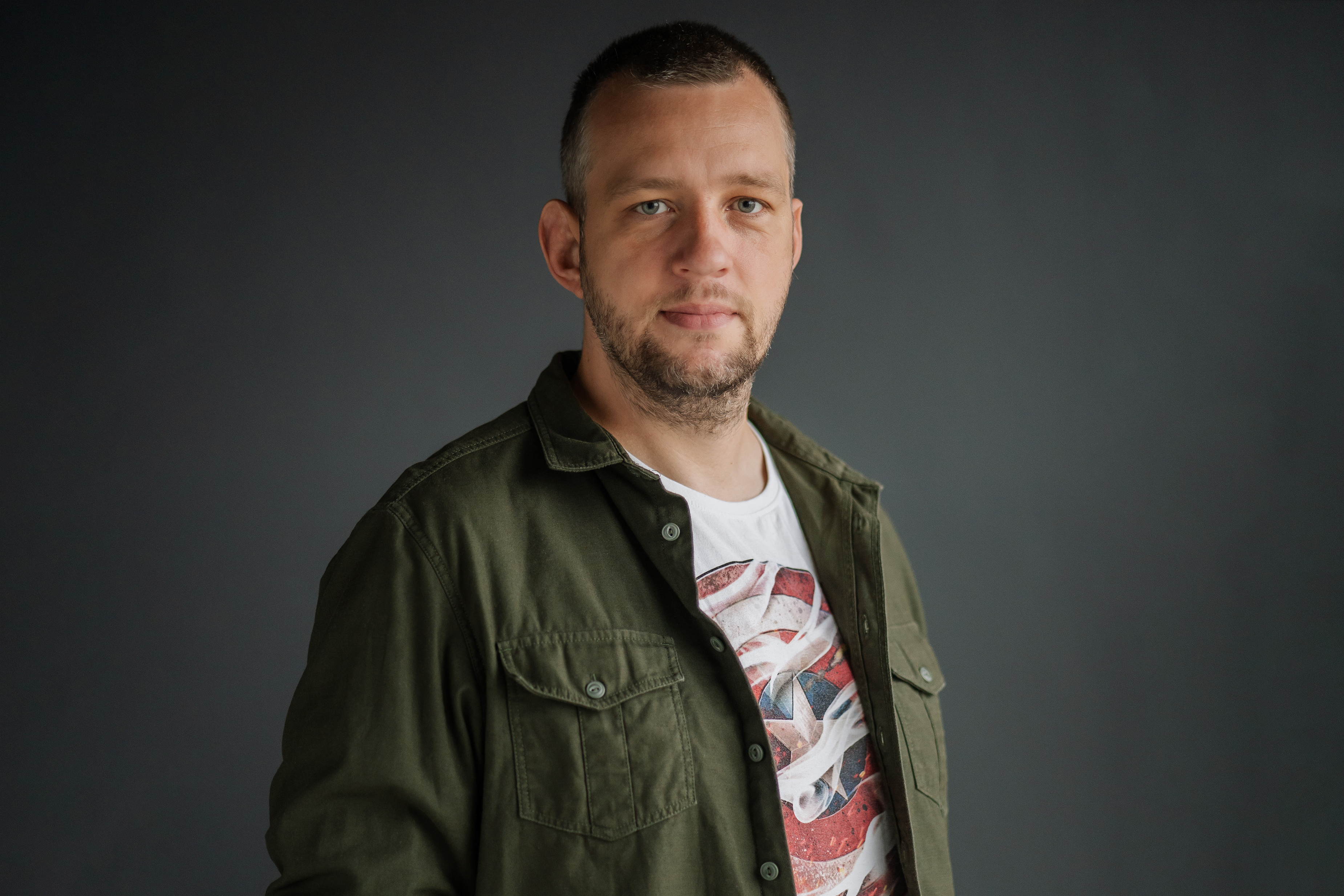 Why did you accept the role of ambassador?
You could say that I am already a well-known figure in our society. I trained regularly, I also lectured at TUKE, I present the company and I talk about information and ERP systems wherever I go. And I even have my own life-size photo .
How would you describe the role of an architect in an IT company?
In my opinion, an IT architect is a term that is still being defined. But it's like architects who build houses. We work from the ground up on the application, system or portal, according to the client's requirements. We prepare the entire skeleton of the solution and then add components to it, so we go from surface to depth into the details. The nice thing about this job is that it is the architect who determines what will be used to meet the requirement. Therefore, he/she needs to have a broad overview, a lot of contacts and a desire to discover.
Why is architecture important?
Without it, no IT service will work well. A well-designed IT architecture will ensure flexible, secure, and cost-effective data handling. Data is the new oil, as they say. And efficient data management is key today.
Could you tell us about your career in the company?
I joined Deutsche Telekom IT Solutions Slovakia, then still T-Systems Slovakia, as a student in 2009, after a month I started working full time. After more than two years, I left the company, but after 11 months I returned. I started as an SAP ABAP developer, that was at a time when we didn't have many developers here in Košice. In 2016, I started moving away from SAP and started working as a software solution designer, which was my first step towards becoming an architect. Shortly afterward, I received an offer to become a member of a German team of architects, in which I have been for more than three years. Our task is to look for enterprise solutions within the group.
During your work in the company, you experienced its development ...
I have been in the company, with a one-year break, since 2009. At that time, I was devoted to development in the SAP environment and our work consisted mainly in receiving a specific assignment, a specification of what needs to be programmed or configured and we did accordingly.  In Košice at the time, we were not talking about being a designer or an architect. Over time, we started running interesting projects here, it was no longer mainly just about reporting, monitoring, and work only based on specifications, but we were gradually invited to design IT solutions with gaining know-how. The company began to transform more towards product orientation. We increased our competencies and experience and they started asking us for a design. We received more and more responsibility and logically also trust.
Today, we work mainly in agile mode and we are partners for German colleagues within the Deutsche Telekom Group and we are also part of complex and large projects, where we represent practically all types of roles.
Have you been close to IT since you were little?
No, on the contrary, I and computers were not great friends. During my study at secondary school, I was prepared to study psychology,  only last year, I decided to change it and chose artificial intelligence at TUKE. This finally connected technology, the natural sciences, and the human sciences, which I enjoyed. The real interest in IT came only in the company when I discovered a lot of possibilities that IT offers. This is also the strongest reason why I'm still here - we are one big company based in Košice, but there are hundreds of projects and thanks to that one can investigate everything possible.
What do you think a person needs to work in IT?
The continuous will to learn, desire to discover, abstract thinking, humility, and a sense of community. Although we say we work with IT, we work with people and IT. When designing architecture, we must think of people as well as security, flexibility, price, durability ...
What development in the field of architecture do you expect in the future?
The future and, in fact, the present is technically clearly in the cloud, which has flexibility, security and cost-effectiveness in its DNA. We at the company also place great emphasis on applications being migrated or developed directly in the cloud. For example, if there is a large demand for a server, the architect identifies it (ideally the automatic device performs it), determines which virtual machine needs to be scaled, and in 10 minutes the problem is solved. However, even the cloud is not the solution to all problems, and even in it, it is possible to do things badly, expensively, and insecurely.
Non-technically, I see the future of architects in the fact that their role will not be defined mainly towards the technical side of things, but that they will cover several roles. It has always been so more or less, I just think that the IT sphere increasingly requires a person to be able to fulfil several roles. So, the architect should be able to take the role of consultant as well, he/she should be able to implement his/her design to a greater extent, depending on the focus and domain, he/she should have something from a developer, devops engineer, tester, etc.