Matej joined our brand as a student in 2012. He has devoted his entire career to Systems Management and regarding this field, he is working on himself, developing himself, and progressing. Does he regret not trying any other field? We asked him about that in an interview as well.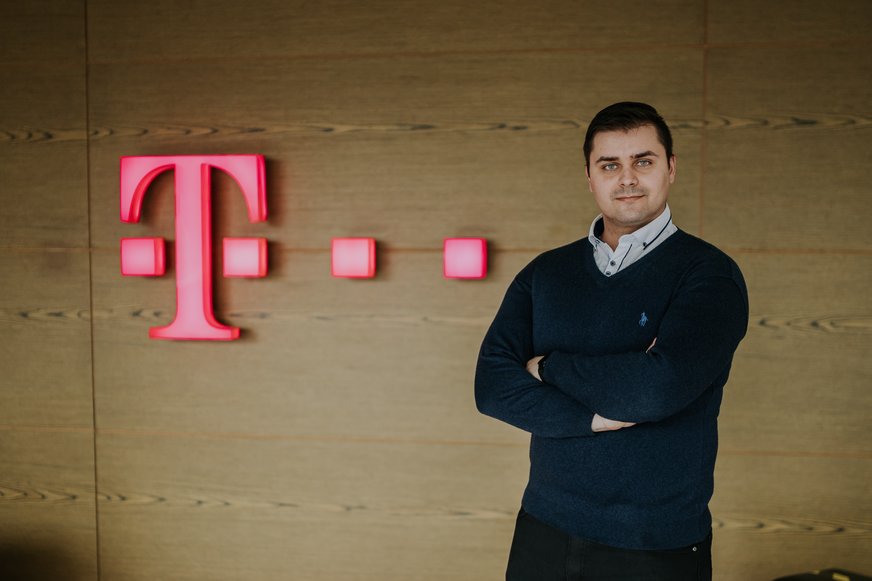 Why did you accept the offer to become an ambassador of DT ITSO SK?
I found it an interesting offer. Within Systems Management, I stay on top of the topic and can provide other perspective. I believe that also through ambassadorship I will spread awareness not only on this topic, but also on modern tools that we use and that are also applicable in other industries.
How has your career evelvod since university time?
The first time I encountered our brand was after my study for a bachelor's degree, at a job fair, when we were still T-Systems Slovakia. At TUKE I was studying applied informatics and at that time I was not interested in the offer for system admins. So, I applied for a general temporary job and the open position was just for Systems Management. I started with simple incidents, I installed monitoring and completed my second degree of my university study. After graduating, I got a full-time job contract and an engineering position during which I managed a complete monitoring infrastructure. I went from the lowest positions and worked my way up to one of the highest positions we have in our company. For the last 3 years I have devoted myself to architectural solutions as an architect and consultant. I am happy to have built a career just in one area. I know I have been deprived of the diversity of other topics, but I think Systems Management has given me a wide enough scope.
When did your relationship with IT begin?
Much earlier than at university. It was probably in primary school when we got our first computer at home. I wasn't interested in games, I was interested in how to set permissions and how to protect my files from being deleted. Later, that relationship only deepened until IT became my hobby, and that's still true today when I work in IT. As well as keeping an eye on trends, I test for security vulnerabilities, have Raspberry Pi computers at home, my own server with a docker, and applications that I approach with the same professionalism as I do at work.
What do you think a person needs to work in IT?
A desire to understand things. I often encounter people perceiving the computer as boring when it comes to things other than games or media consumption. At university I learned that computers are like living organisms, but unlike nature, they are developed by us, the humans. Their function is complex, and while they may look beautiful and simple on the surface, there is so much more behind them.
Do you enjoy working at DT ITSO SK?
It's hard for me to compare, as I've been with the company since my student days. I am also part of DT ITSO SK because of the managerial approach I have encountered - I have never been unable to pursue my professional interests within the company. I am a dual education teacher, and I am also an in-house tutor. On the one hand, these activities broaden my horizons; on the other, they are a drive for me. In the company we are allowed to go to conferences, to educate ourselves, and that can broaden horizons nicely.
How would you introduce a layman to the field you are focused on?
As I am a teacher of ICT systems in dual education, I already have a way of doing this. I explain systems to students as follows: Imagine you are an ordinary system administrator who is given the task of looking after a server. You come in, log in, see if everything is running if the disks are full. SLA ( agreement between us and the customer) tells you to do such a check every 5 minutes. You can do that even if you're in charge of 10 servers. But when there are already 100 or 10,000 of them, it's impossible to do the checks by one person. In this case, the monitoring software manages these checks. So, we have an overview of the data, we can monitor the filling of disks, systems and much more, from which we then generate alerts in the form of incidents. Systems Management is, in short, a process or field under which it all falls.
Why do you think Systems Management is an interesting field?
It is one of the fields where there is no risk of complete automation. This is because it is deployed in complex environments that need to be understood by humans at the other end of the spectrum. Automation ensures that the agent first tries to resolve the error in the system itself. Thus, while we need fewer people to operate the systems and make simple patches, we need specialized colleagues to find complex solutions to these problems. Here, humans will also use knowledge from networks, applications, security, or artificial intelligence. So, it's certainly not a boring area.
From a business perspective, Systems Management is of greatest importance in the corporate sphere, where it is virtually impossible to perform human controls. For smaller business environments and IT infrastructures, it may not be as relevant. It is an essential service that we provide at Deutsche Telekom IT Solutions Slovakia. We guarantee the customer the functionality of their services, continuous monitoring, overview and resolution of potential outages and reporting coupled with analysis to identify opportunities.
Do you also use any modern technologies for analysis?
Yes,  from the field of AIOps (Artificial Intelligence Operations) - it represents the evolution of IT processes in a systems management environment. By integrating AI, it will be possible to monitor large numbers of systems without problems, either their metrics or reports in system logs. Machine learning is based on data from reporting. It looks for blind places in the monitoring setup or anomalies in the infrastructure the person will be notified of. This saves time and resources. In DT ITSO SK, we currently have the goal of putting AIOps into practice.
Do you expect any other changes in Systems Management besides the introduction of AI?
In future, I expect a change in transformation of operations. Now, we are running in the so-called classical way - we have a system, we put monitoring on it, and we monitor it. In the future, we also want to provide cloud or container solutions based on Docker and Kubernetes technologies, especially for hybrid services and microservices. This is especially important for dynamic and fast access to managed services that will be easier to scale and easier to maintain. In terms of our plans, we have one of the first AIOps Devops "Squads" focused on operations within a smaller international team. We have prepared it for internal use and are looking for actual places to apply it. We have more case studies in progress, for example on anomaly detection, pattern recognition, dashboarding...